The semester is coming to a close and the holidays are upon us. That means great food and a lot of it. For vegans, this means it's time to get creative, so we've combed through various sites and catalogs to get you the best bang for your buds. Here's what we found:
Breakfast
Vegan Berry Pop-Tarts
Cook/Prep time: 40 minutes
Everyone loves pop-tarts, period. How do you enjoy these delicious morning treats and feel good about yourself as a person afterward? Take the plant-based option and try these puppies. Vegan pop-tarts are like Walmart brand clothing. When you find that you like it, you can't help but be suspicious. No suspicion needed here. Take this recipe and run with it.
Minimalist Baker has the recipe.
Vegan Biscuits
Cook/Prep time: 25 minutes
I know what you're thinking. There is NO WAY I am eating some hard tack, break my jaw, flavorless biscuits for the holidays. Have no fear, vegan, your mouth is about to thank you. Lather these things up with your choice of non-dairy butter and the Southern world is yours!
Minimalist Baker has this recipe as well.
Lunch/Dinner
Vegetable White Bean Soup
Cook/Prep time: 1 hour
We know you're all out there wanting a lazy break. You don't want to make anything that requires too much effort. We've got this. This white bean soup will take care of your freezing little soul and keep you toasty through the winter blues until you make it to Spring.
Minimalist Baker is hitting the mark with these recipes.
Jamie's Christmas Curry
Cook/Prep time: 2 hours & 10 minutes
We know some of you are of the hardcore vegan variety. This one is for you. Get your chili flakes, turmeric powder, and cumin out for the holidays. We all need a little spice in our lives…and cauliflower. You can never have too much cauliflower.
Jamie Oliver hits us with this great recipe.
Dessert
Chocolate Pom Poms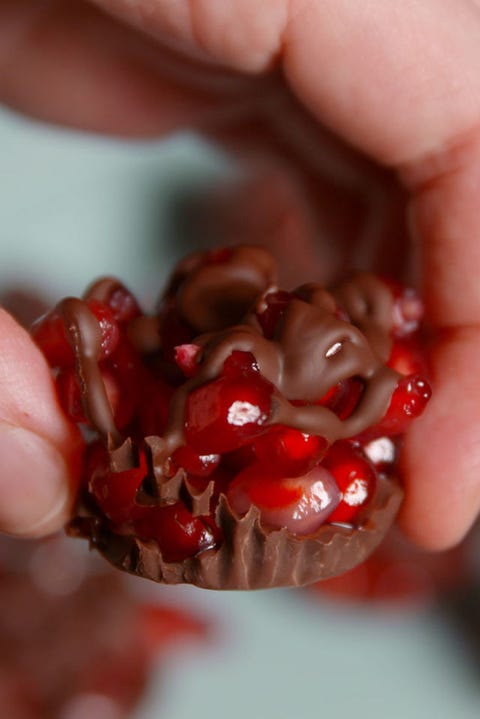 Cook/Prep time: 25 minutes
Melt chocolate. Pour in mini muffin tins. Sprinkle pomegranates in chocolate. Refrigerate. Devour. Extra points for wearing a cheerleading outfit while making it. Get it?
Check out delish's recipe.
Avocado Brownies
Cook/Prep time: 35 minutes
No, you did not read that incorrectly. Avocados. Turns out they're for more than just toast! These fudgy and rich brownies are the perfect recipe to serve to your family and friends without telling them it's vegan. Proceed to heckle them for not eating healthier and more ethically when they rant and rave about how delicious they are.
This one comes from One Hungry Bunny recipes.
Drinks
Mulled Wine
(Must be legal drinking age!)
Cook/Prep time: 20 minutes
For those of you who are of age, mulled wine might be just the thing to take the edge off of the holidays. You're coming down from the buzz of finals and you're looking for a more relaxed and delicious buzz to put your winter break at ease. Believe it or not, not all mulled wine is vegan! I know, surprised me too.
Check out Jamie Oliver's recipe.
Mexican Hot Cocoa
Cook/Prep time: 10 minutes
No winter holiday is complete without a little hot cocoa. Sweet and spice and everything nice, this recipe is perfect for the chocolate fanatics out there who are all about the aesthetic. We know what you're doing. Take your picture and be sure to enjoy this great recipe while you're at it.
This too comes from Minimalist Baker.